Vacuum Excavation for Buried Utility Lines
Vacuum Excavation is the latest in trenching and excavation technology. Vacuum excavation, which is the process of using kinetic energy in a high velocity water stream to penetrate, expand, and break up soil is a cost-effective way to precisely locate underground utilities while avoiding damaging underground pipes, utility lines, and landscaping such as tree roots. With better safety, speed and efficiency, vacuum excavation increases production while reducing costs. Vacuum excavation, or soft dig, can be used for all kinds of drilling, construction, excavating, utility locating and surveying projects.
How Vacuum Excavation Works
Vacuum excavation breaks up the soil and underground material using high-pressurized water, then suctioning up to clear the area. This process is used to quickly and safely dig through gravel, clay and even frozen soil to expose underground utilities.
The high-pressure water in vacuum excavation is powerful, yet it eliminates the risk of damaging underground buried utility lines including gas, electric, telephone, fiber optic, gravity and forced sewers, water services and mains. This method of excavation is very efficient and causes the least amount of soil disturbance to uncover and clear the work space. Once the vacuuming process is completed, work crews can do their job efficiently.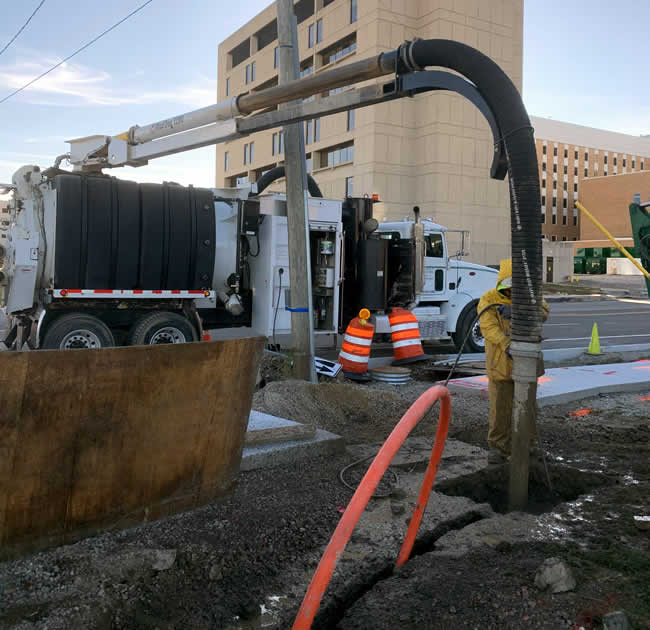 ---
Advantages of Vacuum Excavation
⟁ One of the main advantages to vacuum excavation is increased safety.
⟁ This method of vacuum excavation is a faster and more cost effective way to expose existing utilities.
⟁ Vacuum excavation makes it possible to determine the type, condition, and measurements of underground utility lines.
⟁ Vacuum excavation can be utilized to uncover all types of underground utilities including gas, electric, telephone, fiber optic, gravity and forced sewers, water services and mains.
⟁ Vacuum excavation is perfect for unearthing underground utilities in highly congested areas
---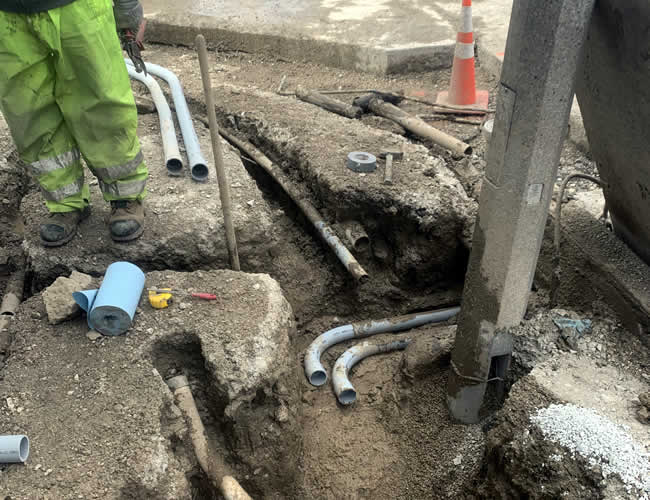 Underground Utility Projects & Applications Requiring Vacuum Excavation
Test Holes: Small holes are excavated to expose buried utility lines when depth and location is not exactly known. Vacuum excavation is relatively less expensive and has a lower impact to verifying the exact location of underground utility lines including the depth and dimensions.
Remote Excavation: When there is a tight spot or hard-to-reach area, using the vacuum excavation method is a great solution. With the long vacuum hose, the vacuum truck can be parked further away from the site in the case of lack of space or unstable ground surfaces.
Slot Trenching: Slot trenching can range from .5" up to 3 feet wide, and to depths of 10 feet or more, and can provide a safe method of opening up utility trenches when there are too many obstacles for standard open cut methods.