Mon-Fri 7:00am-5:00pm
24 Hr Emergency Service

Mon-Fri 8:00am-6:00pm
24 Hr Emergency Service

WISCONSIN'S UNDERGROUND SPECIALISTS
COMMERCIAL, RESIDENTIAL & PUBLIC UTILITIES
Request Information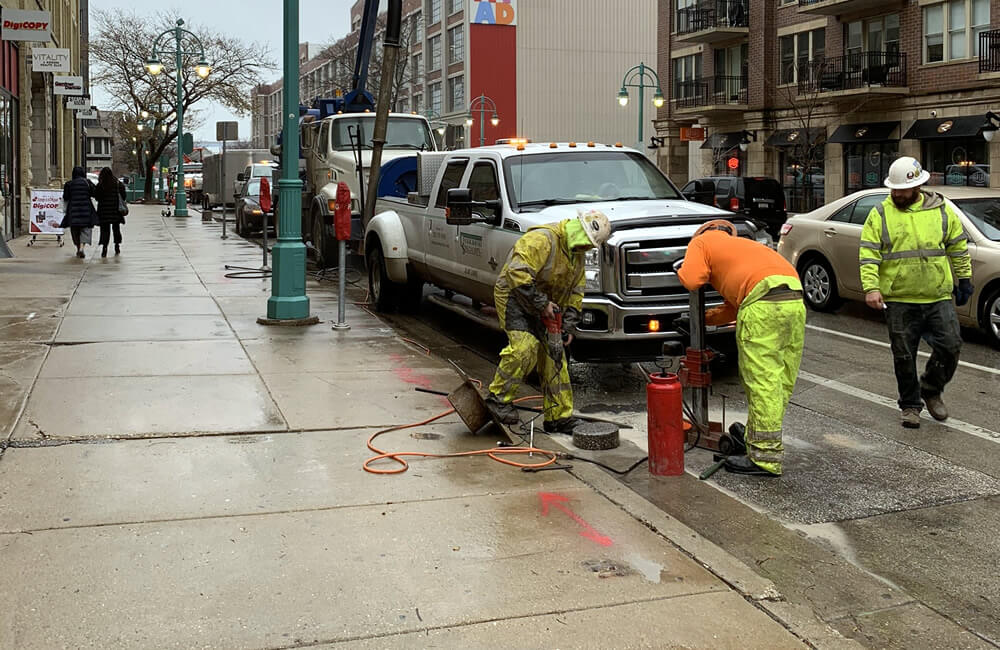 WISCONSIN'S UNDERGROUND SPECIALISTS
COMMERCIAL • RESIDENTIAL • PUBLIC UTILITIES
The Underground Drilling Experts
Underground Specialists, Inc. has over 20 years of experience in Commercial and Residential underground utility installations throughout the metro Milwaukee area and southeastern Wisconsin.
Professionally Trained and Licensed
Licensed Geothermal Loop Installer
Licensed Utility Contractor
Professionally trained in Butt Fusion and Electrofusion
OSHA Compliant
COMMERCIAL

Our experienced team has completed projects involving directional boring installations for gas, electric, telephone, fiber optic, gravity and forced sewers, water services and mains. USI also does electrical and fiber duct package installations, commercial site lighting including concrete pole bases and pipe installations, vac excavation services, commercial fiber optic outdoor infrastructure designs – and much more.
Continuous Pipe
Fused Pipe
Steel
Locking Ductile Iron
Locking PVC
Glued PVC
Cable TV
Electric
Communication – Copper & Fiber Optic
Water Main/Services
On Grade and Forced Sewer Main/Services
RESIDENTIAL

On residential properties, low impact equipment is used to minimize the disturbance in your yard. Water and sewer conversions, pole barn, boat house and out building utility installations, and sub surface water mitigation on bluff properties are a few of our residential customer requests.
Gas Line for Pools
Driveway and Parking Lot Lighting
Pipe Bursting
Geothermal Loops
Bluff Stabilization
Vacuum Excavation
Backhoe Work
Directional Drilling
Trenching
SPECIALTY

Underground Specialists Inc. also offers a wide variety of specialty services including geothermal loop installations and surface/subsurface water mitigation on Lake Michigan bluffs.
Geothermal Heat Source Installation
A geothermal heat pump, ground source heat pump (GSHP), or ground heat pump is a central heating and/or cooling system that pumps heat to or from the ground. Due to the logistics of some job sites, directional boring can be a viable option for installations of these systems.
Bluff Stabilization
Stabilization of the bluff and helps prevent shoreline erosion, further landslides and loss of property. Working in partnership with a marine contractor, USI has developed a patented process to significantly increase bluff stability on deteriorating properties along the shores of Lake Michigan.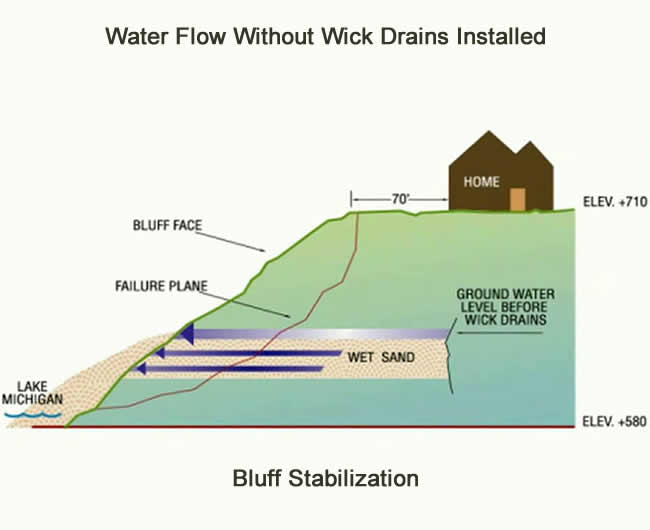 HISTORY
Upon graduating from Michigan State University with a Bachelor's degree in Engineering, Scott Kandziora was first employed by a major underground construction manufacturer, learning the utility industry by demonstrating, operating and selling underground equipment. It was there he met Jerry Peterson and together executed a plan to form Underground Specialists, Inc. in May of 2000. They operated as a 2-3 man team until 2004 when Scott became 100% owner and continued to grow the company, creating new jobs, adding new equipment and developing new services and opportunities for its customers. USI is now a multi-crew company and has recently moved its shop operations to Brookfield, WI.
With over 20 years experience as a professional in the field of utility installations, Scott and USI holds numerous licenses and certifications and has earned a strong reputation for honesty, integrity and quality work.
QUALITY
Underground Specialists is a top contractor in the utility installation industry providing strategic analysis of the job situation whether it involves residential, commercial or specialty work. Servicing primarily Southeast Wisconsin, USI offers expertise in horizontal directional drilling, hydro excavation, pipe bursting, commercial site lighting, geothermal loops and bluff stabilization, to name a few services. Employees are professionally trained and held to the highest standards of OSHA regulations, operations, and customer service.
USI is a member of Associated Builders and Contractors, Inc., NFIB, Wisconsin Excavator & Graders Association and is a constant supporter of multiple community organizations and service groups.
Contact Underground Specialists Inc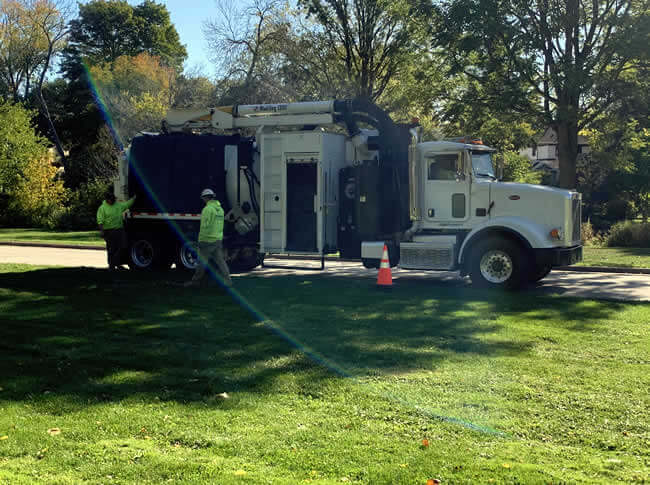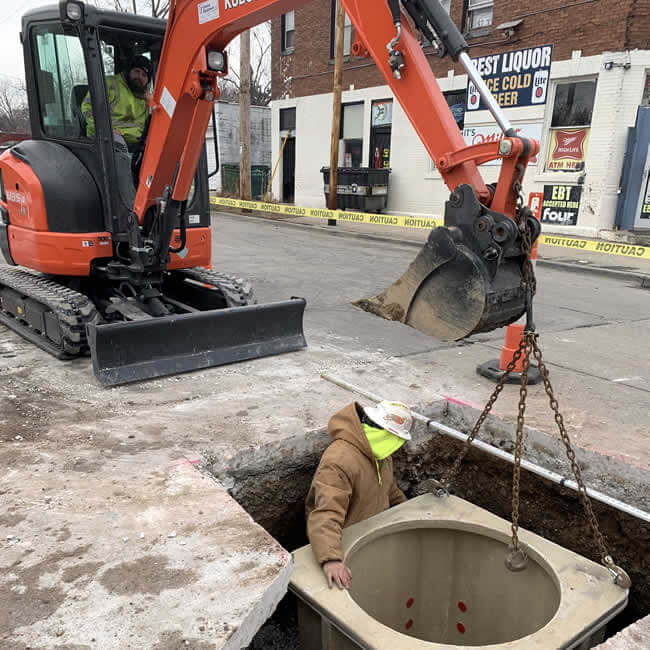 FUTURE
As the construction industry continues to expand, Underground Specialists will continue to grow and react to the needs of its existing and new customers. Further expansion in servicing growing communities, plumbing and electrical contractors and the hydro excavation field is a customer-driven need. It is expected that new growth in the area of bluff stabilization may be a dominant service as its resolution for reducing erosion to properties located on waterways, continues to gain recognition by builders, homeowners and engineers alike.
Services

SEWER
Forced and gravity.

ELECTRICAL
From 1/2 inch PVC road crossings to large scale electrical duct packages

WATER
Services and main to 12 inch in Diameter.

GAS
Gas Services and Mains

COMMUNICATION / FIBER
Fiber Optic and Copper

SPECIALTY
Geothermal Loop and Surface/Subsurface Water Mitigation.
HOURS OF OPERATION
Mon: 7AM-5PM
TUE: 7AM-5PM
WED: 7AM-5PM
THU: 7AM-5PM
FRI: 7AM-5PM
SAT: Closed
SUN: Closed

Licensed • Insured • Bonded
24 Hour Emergency Service Available